If you feel lost, you're not alone. You may feel like you should be doing better for your family, but how do you make that happen? How do you get them to eat better? To actually exercise?
It takes awareness, education, and commitment. And it's absolutely
WORTH THE WORK.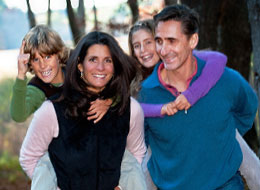 We know.
As wellness experts, we don't just talk about a healthy lifestyle. We live it out every day with our own family.
So, as you're taking the first steps toward improving your family's health, we'll be right beside you. We live healthy eating and healthy moving every day in our household. It's what we know and what we do.
Having the right team alongside you makes the difference between real life change and a temporary "health kick." We know you want more than that for your family.
Get Powerful Wellness Education

Feel confident that you're making the best nutritional choices for your family.

Enjoy Personal Fitness Coaching

Receive personalized fitness plans that keep you and your family feeling great and injury-free.

Be Encouraged By A Support Team

Experience the support of a seasoned team of wellness experts. Knowledge is power.

Ready to get your family healthy?

Schedule A Consultation